Biography of Baba Ram Singh Ji Maharaj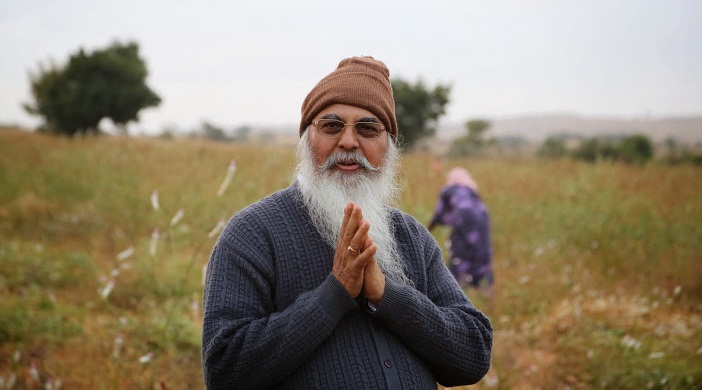 The life of Sant Baba Ram Singh is a life of sacrifice, devotion and meditation. Sant Baba Ram Singh was born on April 10, 1954 in the village of Kharsenpur, District Jaunpur in his maternal grandfather's house. His parents used to live in the village of Karkhion in the District of Banaras. Baba Ram Singh was brought up and received his childhood education there. After completing high school, Baba Ram Singh's father moved to Mumbai and Baba Ram Singh also went to Mumbai. Since childhood, Baba Ram Singh was very religious and devotional by nature, so early in his life villagers began to call him 'Baba'.
After coming to Mumbai, he joined a service and worked in a mill. During this period, by chance, he went to Kakad Chambers, Worli Naka and attended the tape-recorded Satsangs of Baba Somnath. He became very intoxicated looking at the beautiful image of Baba Somnath and listening to His voice during the evening tape-recorded Satsangs. After a month, he was feeling such intense longing to meet Baba Somnath that he travelled to His Kengeri Ashram in Bangalore. During their first meeting Baba Somnath showered much Grace on Baba Ram Singh and he was given much seva to do, including the very difficult seva of guarding the entire one hundred nineteen acre ashram during the evening hours. Baba Ram Singh also did the seva of working in the farm during the daytime and continued to mediate each day in the early mornings. He received initiation on April 02, 1974. Baba Ram Singh had the company of Baba Somnath for only three years. However, as Baba Ram Singh says, "Baba Somnath laid the foundation of my Spiritual life."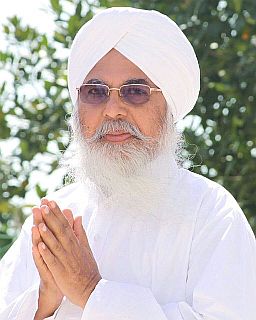 After the physical departure of Baba Somnath, Baba Ram Singh continued to do his seva and meditation every day in the ashram. In 1978, Baba Ji had the Darshan of Sant Ajaib Singh while attending a program in Mumbai. After attending this program he was convinced that Ajaib Singh was a Perfect Saint and, at the same time, the memory of his Master Baba Somnath was deeply revived again in his heart. Baba Ram Singh then returned to Kengeri Ashram to do his seva and meditation with these revived memories of Baba Somnath.
After a few years he moved to Enumuladoddi Pahad Ashram in Andhra Pradesh and meditated there for several years. Following this period he went up to a cave at the Big Mountain site in Tenagal and meditated there. When he left this place, he found solace and peace in the village of Mudgal in the District Anantpur of Andhra Pradesh and meditated there for one year.
In 1985, he decided that he wanted to leave southern India to return to Banaras. On his way he came to Mumbai, where a Satsang program was being held. It was at this time that he again went to have the Darshan of Sant Ajaib Singh. During the Darshan Saint Ajaib Singh began to say, without Baba Ram Sigh telling him anything, "Forsake the thought of going to Banaras. You have to live in Andhra and Karnataka. I am conveying this to you on behalf of the order of Baba Somnath. You have to water the plants, planted by Baba Somnath, and you have to do Satsang there. Satguru makes everything happen Himself." From that time onwards, Baba Ram Singh devoted himself at the feet of Sant Ajaib Singh.
Baba Ram Singh then went forward to purchase land with the help of Sant Ajaib Singh in the village of Guddella in the district of Anantpur. He established Som-Ajaib Kripa Ashram, thereby obeying the order of Sant Ajaib Singh Ji. During this time, he also went from village to village to do Satsangs. Over the next ten years he took thousands of dear ones to Sant Ajaib Singh for initiation.
In the 1987 Bangalore program, Baba Ram Singh was given the duty of explaining the initiation instructions and helping the dear ones to learn the Five Holy Words of Simran during the initiation process. Baba Ram Singh also sat for meditation and, after sometime, his soul went up. During this time, he had the vision that both Ajaib Singh Ji and Baba Somnath were standing in front of him and that They were One. After this, he always took Sant Ajaib Singh Ji as his Master and Sant Ajaib also accepted him as His disciple. Baba Ram Singh experienced a feeling, as if he had been reinitiated, by Sant Ajaib Singh. He did this seva for eleven years, up to May 1997. In the Jaipur program, Baba Ram Singh was given the duty to do Satsang at both Jaipur and Bharatpur in northern India. In May 1997, in the Delhi program he was ordered to give Naam initiation and he initiated one lady of Anantpur in the presence of Ajaib Singh.
On July 06, 1997, Sant Ajaib Singh left His physical body and Baba Ram Singh continued to do meditation and Satsang programs in both northern and southern India. In 2000, he built an underground room in Som-Ajaib Kripa Ashram. He sat for mediation there in 2001, 2003 and 2007, while continuing to do the monthly Satsang.
For westerner dear ones, an ashram was established at Channasandra in District Kolar, in Karnataka, which is located one hour from the Bangalore airport. These programs have been going on every January and August, since 2009. Attendance at these programs by western disciples of Sant Ajaib Singh Ji, Sant Kirpal Singh Ji, and Sant Baba Somnath Ji have been growing steadily and, over the years, more and more rooms have been built to accommodate them.
Baba Ram Singh began Naam initiation in 2005 with the inner order of Sant Ajaib Singh and Baba Somnath.
Sant Baba Ram Singh always says, "I welcome all of you in the name Sawan, Kirpal, Som and Ajaib in the programs. Let us do devotion with Love so that we ourselves are able to sit in the Lap of The Supreme Father, Who is the Ocean of Grace and the Ocean of Love. He is very gracious. He will definitely shower Grace on us."